We are a bicycle commuting group based on Sydney's North Shore. We welcome new riders of all abilities - our adage is "only as fast as the slowest rider". We abide by the rules of the road and ride rain, hail or shine (mostly shine). The group is informal. To become a member requires a modest yearly membership fee and you must have insurance. Bicycle insurance is available through a number of cycling groups such as Bicycle NSW, Cycling Australia and Bicycle Network, to mention a few. We ride to the City (and beyond) every week day across a number of routes. Our primary route meets at Gordon at 6.45am, at the corner of Park and Werona Avenues. Most routes stop for a coffee before work at a few of the cafes near Walsh Bay in the city, such as BarCycle or the Bitter & Twisted cafe.
In addition to commuting regularly, our members participate in numerous weekend rides including rides organized by members and also the major cycling events around Sydney. You can check the calendar for upcoming rides.
MS Gong Ride Sunday 4th November 2018
Easy Riders will again be participating in the MS Gong Ride. We welcome your support of our team in this very worthy cause.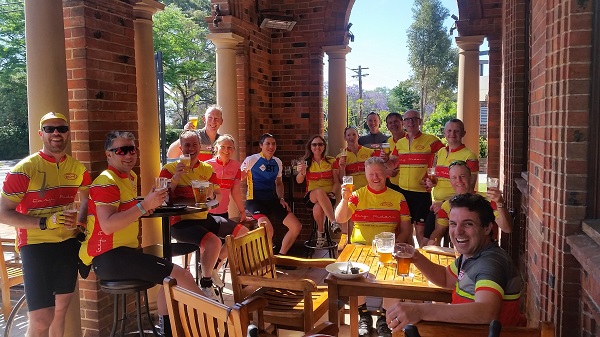 Please come along and join the commute
and soon you'll be riding to Woolongong and back!